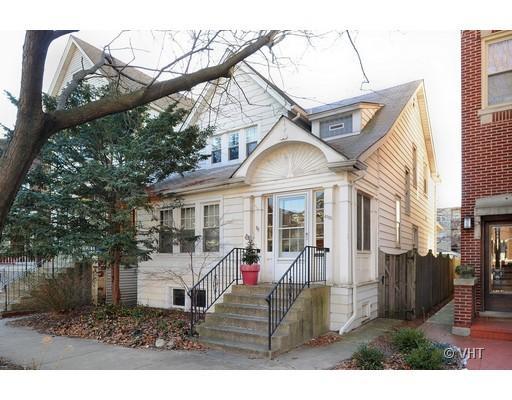 Well we are through step one of buying a new house! I think it's the biggest step, we have agreed on a selling price and so we have a contract! Next on the docket is the inspection on Sunday (but no worries we'll be home in time for the Superbowl…I made that a must). How did we end up being in a house in our favorite city in the world?
When Jason and I were in grad school we made no money, I mean…seriously we would be super excited if we could get to the end of the month with 10 dollars because we could usually find  bar that had a 4 dollar beer and we would go celebrate making it to the end of the month and each have one beer (although we each always wanted more). At that time we lived in a shitty little apartment in the Ukrainian Village and while we liked the neighborhood (kind of), and the commute to Fermilab was easy (this was a huge plus), the apartment was a piece of shit. There was barely any heat in the front of the apartment (seriously how the hell was that even legal?), the previous owner had cats that I think sprayed everywhere so for 2 years I lit candles and would always get a whiff of cat urine smell (although I'm 99% sure that it was my lunatic imagination), the kitchen had no counter tops, but was huge so that was weird. But it was a cheap roof over our heads and that counted for something.
Somehow we made it through those days. And they weren't all bad. The money thing was always a monkey on our back but we learned how to do things on the cheap. Do you know training for a marathon is quite cheap? Just get some running shoes and go run. So we did a lot of running. We had a lot of fun and traveled a lot (work paid the way to Europe twice).
Since then Jason has gotten a "real job" and I have moved up to the postdoc world which isn't so bad moneywise where I am. Although my job will probably change in 2-3 years.
During those Ukrainian Village days, Jason and I would wonder if we would ever own a condo in the city. We never even talked about owning a house because that possibility was just never going to happen. I knew I didn't want to leave the city. I'm a city girl through and through (I always thank my lucky stars that I found someone that loves it and appreciates it as much as I do!) and the thought of living in Schaumburg, Naperville, Berwyn or any other suburb makes me cringe. I get why people live in the suburbs, I really do…but it's just not for us.
From the Ukrainian Village (before that we were in a shitty apartment in Wrigleyville and before that a cute apartment in Bloomington and before that a shitty apartment in East Lakeview…but really that one was like 2 blocks from the lake so that was a lot of win…my point is a lot of apartment living) we moved to a great apartment in Lakeview where we have been for the last 3.5 years. Great landlord, great neighborhood, great location. But then we started to look at our savings account which has grown over the years, and we started going to open houses. We saw lots of condos in Lakeview and then widened our search to Lincoln Square. And what do you know…houses there were just a little more than condos on our block. And so more open houses. A Redfin tour. Some more houses with our landlord (who is a realtor).
We found a place we liked that would have been awesome "in a few years" since we would have put an extension on it, changed a staircase, landscaped the yard, added a garage and so on. We were planning on putting an offer down on Sunday but on Friday night we went for a walk around the neighborhood and I had a panic attack about the neighbor that had a coach house on the back. There was some bright ass light on the porch and it lit up the entire yard of the house we were interested in. Yes I am sure we could have talked to the owner and changed it and yes I'm sure with a garage, landscaping, a fence, and a deck in the back yard it wouldn't even have been an issue. BUT I still went into a panic and at midnight on Friday night emailed our realtor that I wanted to see three other properties in our price range before putting an offer down.
He was able to get us into two of the others (the third was probably too expensive and too far away anyways). The first one was on the el track and while that wasn't a deal breaker necessarily, the condition of the house was. It would have needed *a lot* of work. Then we went to view the original house we wanted (this was the 3rd viewing) and spent a lot of time talking about possibilities etc etc. Then it was off to the third one. Jason and I were so high on the house we liked that we were just kind of walking through not really looking. At one point my Dad came up to me and said, "Leah…do you realize this house is done." I said, "Sure…wait, what do you mean?" He said, "I mean you can move in and not be thinking about renovations for the next 10 years of your life." I started to look closer at this cute little house. And harder and harder…and Jason and I started looking at rooms a second and third time and we started to feel at home.
Not that any house is really done, you have to put time and effort into it to keep it nice. These owners have done that making little improvements here and there every year and there are still things to be done. But it's not like a monkey on our backs that will be, "This house will be nice, when we finish that addition (and deck, and basement, and family room)". If we had more money that could have been fun because we could have moved in and started with all of those things immediately…but we don't and so it would have been a long time coming.
We put in a low offer on Monday night and went back and forth and by Wednesday we had an agreement. Thanks to our realtor for being a bulldog in the negotiations. We close on the 22nd of March. Obviously still a few major hoops to jump through (inspection and finalizing the mortgage), but it from where we stand things look to be pretty solid.
The house is 2 blocks from a great school, 2 blocks from an el stop and 6 houses down from good friends of ours (which is funny because when went to their house warming party we said, "Wouldn't it be awesome to have a house like this someday."). Turns out the two houses have the same floor plan although theirs does have an addition on the back.
So we are on to the next phase it seems like. With all the excitement sometimes I forget that I'm pregnant. 12 weeks till this little guy/gal comes out. And we have *nothing* ready. With a big move happening, we won't be doing *anything* until we get into our new house…which will be about 4 weeks before the due date. So that'll be exciting. Although I'm sure I won't go early given my previous experience so I should be knowing exactly when things have to be ready!
Exciting times ahead.